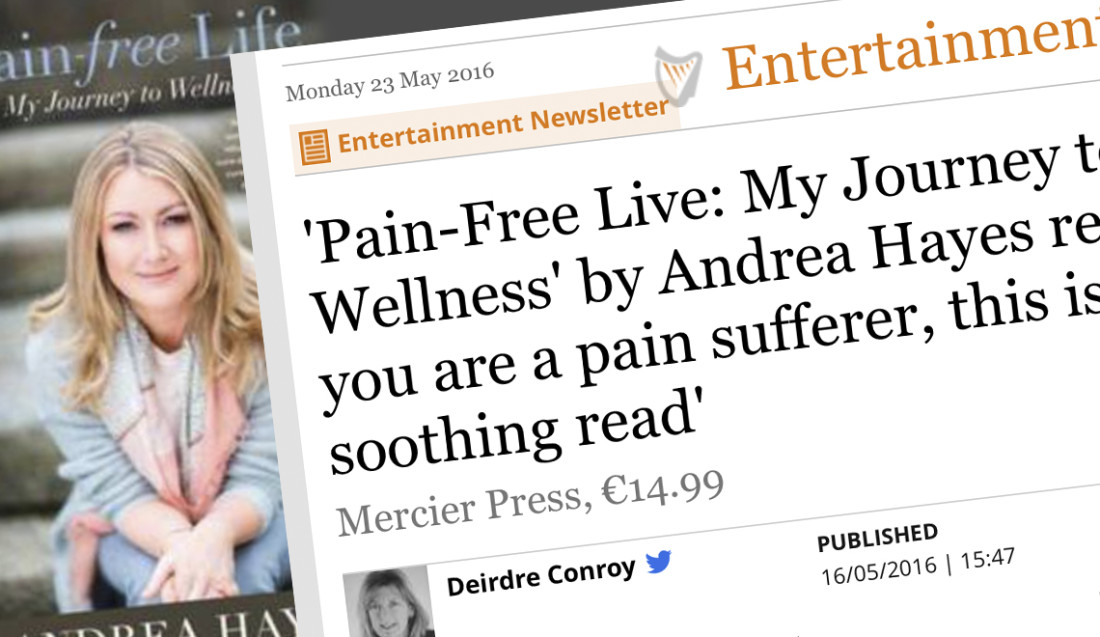 Independent.ie Book Review
By Deirdre Conroy
'Pain-Free Live: My Journey to Wellness' by Andrea Hayes review: 'If you are a pain sufferer, this is a soothing read'
Andrea Hayes spent many months of her childhood in hospital. A few pain free years as a teenager followed with a healthy, sporty and creative life until meningitis attacked her system at fifteen years old.
That hospital period was to leave her with permanent back pain. Her ability to overcome frequent relapses stems from her positive personality and her family. Her parents feature throughout the moving account of dealing with an invisible illness, misdiagnoses, failed procedures and despair.
In periods of wellbeing there are lighter moments, meeting her future husband, their passion for snowboarding, and sadly, an accident on the slopes. Her arm was fractured but her lower back pain became much worse. Reliance on painkillers increased, leading to anti-depressants. The irony of managing pain, is the damage that analgesics cause on other organs.
Andrea's story is both local and universal. In 2010 she was told she had chronic neuropathic pain and would always have pain.  But in 2013 Dr Paul Murphy of St Vincent's Hospital found an explanation, she had Chiari malformation 1, a rare condition that meant her brain was pressing downwards.
A pain management course at the hospital introduced her to 'pacing' techniques, mindfulness and meditation. Andrea is a clinical hypnotherapist, and her book explores the power of the mind to challenge life-long pain with practical and mental exercises. If you are a pain sufferer, this is a soothing read.
http://www.independent.ie/entertainment/books/book-reviews/painfree-live-my-journey-to-wellness-by-andrea-hayes-review-if-you-are-a-pain-sufferer-this-is-a-soothing-read-34719478.html