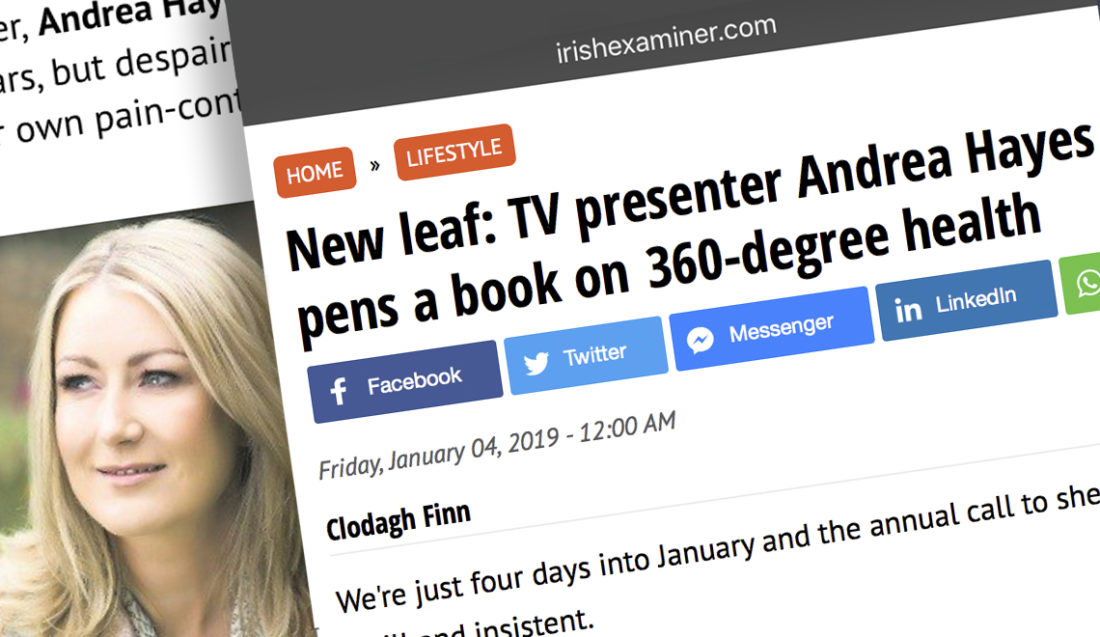 Irish Examiner Book Review
New leaf: TV presenter Andrea Hayes pens a book on 360-degree health
We're just four days into January and the annual call to shed the Christmas pounds is already shrill and insistent.
But, says bestselling author Andrea Hayes, the most effective way to achieve your new year resolutions is not to think in terms of loss, but of gain. Instead of focusing on losing weight, she says it makes much more sense to concentrate on gaining positivity, health, and wellness.
That's what she did in 2013 after she was diagnosed with Chiari malformation type 1, a rare brain condition which means she suffers daily chronic pain. The author of My Life Goals Journal and Pain-Free Life also discovered that she had other conditions — POTS (postural orthostatic tachycardia syndrome), EDS (Ehlers-Danlos syndromes) and spinal stenosis — which make daily tasks difficult and often very painful.
She decided to take a sabbatical from Virgin Media television and presenting Animal A&E to focus on her health. "I effectively began to take charge of my own healing."
As part of that journey of wellness, Hayes explored how nutrition could help ease inflammation in the body and went vegan after doing a cookery course with the Happy Pear duo Stephen and David Flynn. "I could instantly see the benefits of my new diet choices," she says.
Rather than feeling she was restricted, her vegan diet opened up a whole new way of eating and cooking food.
Hayes says she always takes advice from the professionals and when she got pregnant in 2017 — against the odds — she reintroduced meat to counteract anaemia.
"If you embrace a new diet, make sure to supplement what you have taken out as it's a huge shock to the system," says Hayes.
Whatever dietary steps you decide to take should be about nourishing and fuelling the body, not about depriving it, she adds.
Hayes's new book, Mind, Body, Soul Journal, is all about ensuring that you give not only your body but your mind and soul what it needs to flourish. That is what she tried to do herself during those months of self exploration, post diagnosis, and she wants to pass on her insights to a wider audience.
Her message, outlined in an exquisitely designed book, is one of gentle encouragement in stark contrast to the harsh cacophony of social media. While it has its place, she says social media can be a blight as it drives people to compare themselves with others. "Don't be a second-rate version of someone else; be a first-rate version of yourself," she says, suggesting that people step gently into the new year, making small, positive changes.
Rather than impose a strict diet, it is much more helpful to listen to your body and find out what it needs.
– she says, though she emphasises the importance of getting professional help when necessary.
One of the most effective ways of finding out what she needed to feel better herself was to keep a journal. In fact, she keeps three: A mind, body, and soul insights journal, a daily gratitude journal, and one for dreams.
Her new book is designed to encourage readers to do the same. It acts as a practical workbook with month-by-month themes and exercises to help the reader uncover what is going on at the deepest level.
Keeping a journal, for example, can help uncover unhealthy eating patterns or diet choices, but it is intended to do so much more.
For Hayes, it helped her to achieve balance between mind, body, and soul and navigate a path through daily chronic pain with a range of approaches, including hypnotherapy and Reiki.
It also had an unexpected result — a second pregnancy after a series of miscarriages. She has a seven-year-old daughter Brooke and longed for another child but was told she was an unsuitable candidate for IVF. Yet, Skylar Grace was born seven months ago and her mother has dedicated the new book to her.
The result is an inspiring, thought-provoking, go-to guidebook that will quieten the chatter of the detox brigade.
Mind, Body, Soul Journal is published by Gill Books, €16.99