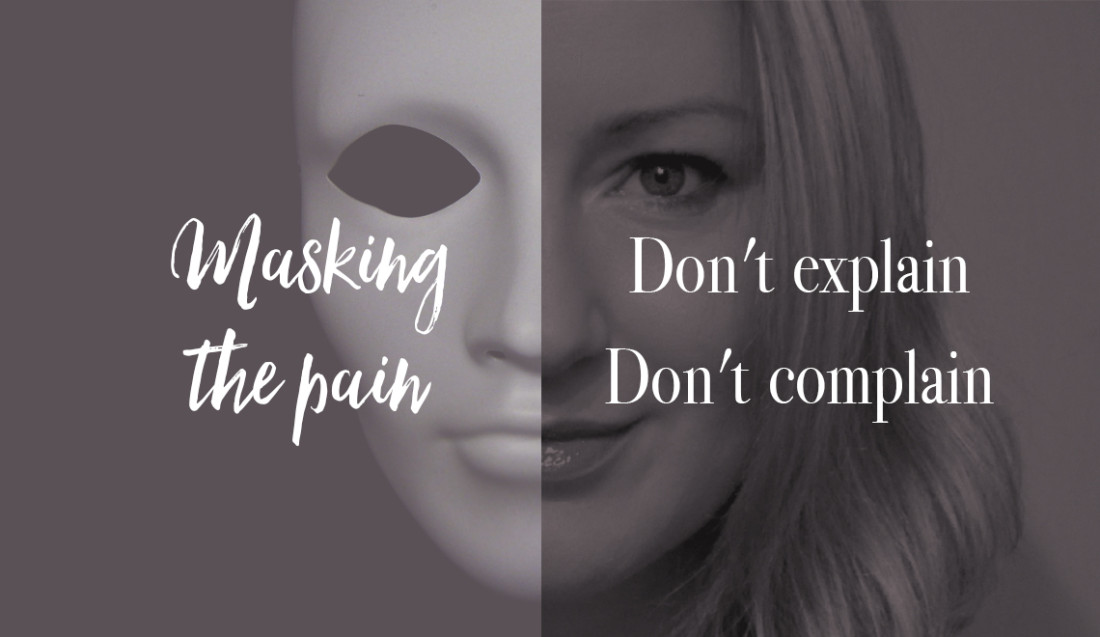 Don't explain and don't complain
The phrase 'Seeing is believing' springs to mind when I think about living with
Imperceptible pain, because there is no seen evidence of my illness it remains invisible to the naked eye. I feel this is why it doesn't seem convincing to many that I could actually have this constant complaint of pain.
I can understand why it is so difficult for people to comprehend, I find it hard to verbalize what my life is like and sometimes I feel there is no point talking about it as it defies explanation.
So after years and years of explaining and re-explaining myself to new people as they came into my life I decided to stop. I was exhausted describing that although I go in and out of hospital I am not really getting any better, just managing. I was fed up telling people that I didn't even know if I would get better. And in truth when their questions stopped, I began questioning myself.  It made me more acutely aware just how different I felt from others and really how most people, even my good friends and family, had no concept of how I (and many others like me) suffer with pain daily.
I live everyday, like many others, with an invisible illness, we can choose to try to hide it or talk to people about it. For me I tend to stick to my tried and trusted mantra 'Don't explain and don't complain' and here's why.
If you do try to talk about it, you often find that as much as people might think they understand, like anything in life, you really don't know what it is like until you live it every day. For people who live in persistent pain every day, I am probably talking for the majority when I say that, coming to terms with the fact that you experience pain that will never go away is deeply shocking. It goes against everything we have been programmed to believe about pain. We are taught that pain is a consequence of something else, find the source or cause of the pain, then treat the source, and the pain will go. To discover it isn't going – ever – is probably the hardest thing to deal with. We struggle with denial within ourselves, and along with this, we are often judged socially or within our own circle of friends or even with close family. This judgment or lack of belief is very hard to deal with. Sometimes you feel you need to prove you are actually in pain, this in itself can be exhausting. A simple remark can strike right at your core.
For example if someone said to you, "I am a diabetic", any sane person would accept this as fact, they wouldn't challenge it or try to suggest that sugar has terrible effects on them too and say just get on with it! This might seem harsh but trust me whenever you mention being in 'pain' it can turn into a competitive sport with some people. Suddenly without warning you seem to be playing some sort of 'pain poker' game. It begins with your opponent revealing their hand, often they go straight for the big 'D' they have had 'Disc problems' in their back, feeling pretty confident, they seem to be looking at you proudly as if to say trump that. In the past I have engaged in this game, I often found myself dropping medical names like 'spinal stenosis' to explain the complexity and depths of my suffering. Some poker-faced competitors might take it higher, raising the stakes, revealing their tales of woe about lying on floors all night popping difene for the pain. Here is where I always have the trump card! I reveal my 'full house' – Medication…I hear myself saying 'I could rattle I take so much 'stuff' for pain' Suddenly there is silence, and that's when I get the familiar 'look' from my opponent, it is a mixture of disbelief and then pity.
I sigh.
SO have I won?
Or am I just the biggest loser?
I always feel ten times worse after this little game, it feels utterly hopeless to know that most 'normal' people seem to have equal war stories about pain but they seem to somehow be able to 'get better' their acute pain responded to the drugs, the treatment, their body healed, what is wrong with me? Once again I am left with more questions.
So for now when people mention pain I just don't explain. For the second part of my mantra "don't complain"
In the spirit of sharing, here's what my years of experience has taught me….whining about my suffering wasn't helpful and lets face it no one really wants to hear about it, you might think they do, but trust me they don't. This is a tricky one that can catch you out almost daily, especially if you live in Ireland as one of our conversation starters is generally "How are you?" or  "How was your weekend?"  we are asked this question constantly and I normally routinely lie about the answer, my go to answers are generally  'I am grand' or 'not to bad'
Now lets pretend I was to answer that question in an honest fashion what would I say?
If I was to be sincere today to that question what would I say truthfully…
'Well I am feeling crap, I feel like someone has a steel bar and they are banging it against the middle of my back, while kicking me in the bum with a steel-capped boot. Then I have the overwhelming feeling of compression at the base of my head causing my neck pain, it is a crushing feeling of heaviness that I describe as someone drilling into my skull, I feel like I want my neck to be stretched out or maybe I could wear a neck brace to help carry this heavy load, which is my head. Moving up my skull and behind my left eye feels like a little time bomb is going to explode, a shooting squeezing feeling that seems to tick on and off. That's not all, did I mention my annoying neuropathy, it makes braiding my daughters hair every morning torturous, my fingers and joints are so stiff and sore it is a constant reminder something isn't right, and its not just painful it is very frustrating too, I drop my morning coffee cup routinely, a little extra cleaning just as I am trying to get out the door for school.
So to answer your question "how am I…"  Well, I am in pain and here's a newsflash for you, I feel like this almost everyday, even on weekends!
Phew – even writing all that was a cathartic release.
However, you can see why this level of honesty could be a little over the top and a little too candid for a casual mid morning chat at the coffee dock or water cooler. So, for now, I kind of feel like this question no longer really applies to me. Regardless of how I am, I will generally lie and say, "Sure I am grand "
Isn't is amazing how brave I am behind my keyboard typing out detailed accounts of my true feelings, however out in the real world I wouldn't dream of ever saying anything like this to someone who asked 'how are you?', to be honest I don't know that I would have the energy or even the confidence to say what I am truly feeling.
So for now, I will continue my inner mantra that has served me well 'Don't explain and don't complain' about my pain.